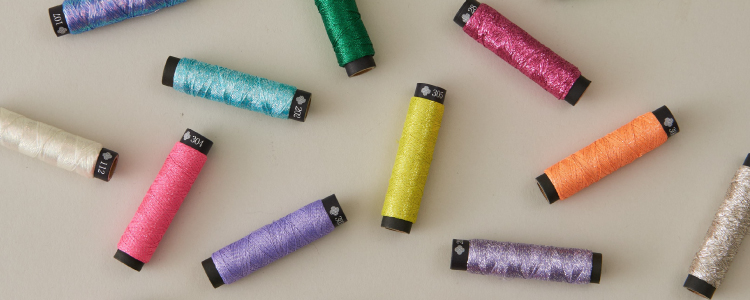 "nishikiito" is the cosmo brand metallic thread for hand embroidery. This thread is crafted with the same technique to produce gold thread used in traditional Japanese clothing in the former capital of Japan, Kyoto.
| | |
| --- | --- |
| Materials | Cupro / Polyester / Nylon |
| Order Unit | 1 |
| Country of Origin | Japan |
nishikiito is available with 5 different styles of metallic threads that can make accents in a wide variety of needlework and craft projects.
Nishiki

"Nishiki" style is the type often used for Obi belts of Japanese traditional clothing, Kimono. This thread has subtle metallic colors and is resistant to friction, good for not only stitching but also making tatting lace and tassels.

Approx. 20 meter per spool / Equivalent to No. 5 to 6 count

Kagami

"Kagami" style has sparklier presence thanks to its twisting technique and abundant glitter. Soft touch feeling is best for both cross-stitching and embroidery.

Approx. 20 meter per spool / Equivalent to No. 14 count

Opali

"Opali" style has film-like smooth texture and multi-color reflection like Opal stones. Semitransparent look allows light to faintly pass it through and creates unique nuance.

Approx. 20 meter per spool / Equivalent to No. 11 count

"Opali" is former No. 78 "Shabon-Dama" thread, now available in the same blister package as No. 77 "nishikiito".

Champagni

"Champagni" style has pastel colored gentle sparkles like bubbles in champagne. With its soft and smooth hand feeling, it is comfortable to keep stitching.

Approx. 20 meter per spool / Equivalent to No. 10 count

Neoni

"Neoni" style is an eye-catching bright color series. These threads give dramatic impact to your needlework even with just a small amount. You can also use as many strands as you like depending on your projects for each strand is extra-fine.

Approx. 50 meter per spool / Equivalent to No. 25 count
Precautions for Use
Do not use this thread with sewing machines.
Do not iron.
Wash with pH neutral detergent when sweat or dirt attached to this thread.
Do not use alkaline detergent (col.1, 5-17, 24-33, 101-112 and 301-306).
Store this thread in a cool place away from heat and humidity.
This thread might turn black in contact with leather or rubber (Col. 2-4, 18-23 and 201-206).
Color of this thread might look different when exposed to ultraviolet rays (Col. 201-206).
※Actual color of threads might be slightly different from the printed colors.